Posting your question. Please wait!...
---
"CashMate" - We are pioneers in office automation product with versatile knowledge and experience in Currency counting and fake detection machines. We deal with all high quality leading brands to cater to different customers in various ranges. From Basic to higher end models , our machine comes with the highest standard and also with on site service to any area within tamilnadu.
We are one of the leading retailers of currency counting machines , Billing machines , Attendance Registers , Self service kiosk , pos , Safes , Fake note detectors . We have our branches at Coimbatore , Erode , Salem ,Velore , Trichy , Madurai , Chennai and Tirunelveli to give prompt service to our customers.
Our prestigious customers include State bank of india , Karur vysya Bank , Lakshmi Vilas Bank ltd , HDFC , ICICI , UCO , Union bank of india , Canara Bank , Indian overseas bank , Chennai silks , Kumaran thangamaaligai , Jewelone , Kongu institutions , KMCH , and the list goes on endlessly with a majority of the market share in counting segment owned by us .
PRODUCTS
Intelligent money counter cum Detector
Heavy Duty Model
Certified By RBI for its Performance
Used in majority of banks and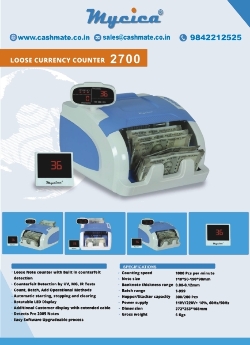 Mycica 3700 is a economical Note Counting Machine for counting currency notes and detecting fake note . It is equipped with a micro-computerized
Contact Us
Address:
CASHMATE SYSTEMS 152 , Periyar Street , Sendhur Complex , First Floor , Erode 638001
Email:
sales@cashmate.co.in